We are Auckland's leading supplier of genuine Oztech Retractable Roof Systems –
the most installed waterproof retractable roof system in New Zealand and Australia.
Oztech's range of architectural retractable roof and pergola systems are suitable for use in any weather conditions and for a large range of residential and commercial applications. Whether it's a retractable roof for your backyard or deck that you're looking for or a custom roof system to meet the needs of a restaurant or commercial project there is an Oztech model to suit.
Recent Work
Here are a few of our recent Oztech installations in and around Auckland.
A picture is worth and thousands words, so a video must be more… Below is a playlist of some of the most recent Oztech installations by Dave Giddens Sailmakers in and around Auckland. [Hover over the video and use the menu on the top left to jump from one video to another.]
Models
By far our most popular model is the Oztech Tera, but there is a full range of models to suit a range of installation requirements and aesthetics.
Features
Integrated LED Lighting
Remote-controlled, dimmable LED lighting is available on all systems. The Oztech LED lighting system is integrated into the profile of the fabric support rafters providing a slim-line and aesthetically pleasing solution.

In-built Drainage
Drainage is in-built - the gutter along the front edge of the system drains down through any of the uprights/supporting posts.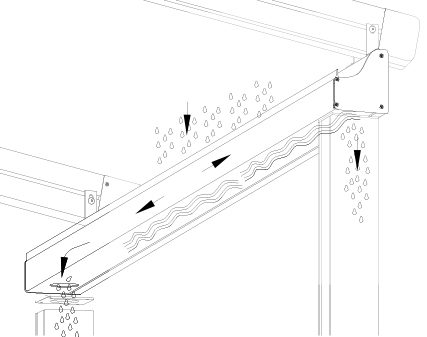 Overhang SoluTions
Each system is available with an optional overhang to allow the covered area to protrude past the rafter profile. Site specific overhang solutions such as stepped or wedge shapes are also an effective way to get maximum coverage for your area.